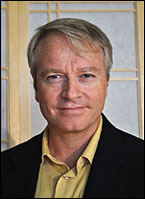 On Sunday, August 26th, author Steve McIntosh joined me for a scintillating conversation about Evolution's Purpose: the Ever-Widening Realization of Beauty, Truth, and Goodness.
Steve is an important integral philosopher, a leader in the integral philosophy movement and author of the new book, Evolution's Purpose: An Integral Interpretation of the Scientific Story of Our Origins, which builds a powerful rational case for purposive values evident in the very structure of cosmic, biological and noetic evolution.
Steve cogently described how something more complex and accomplished has been emerging from something less from the beginning of time. This pattern of transcendence and inclusion has been ratcheting up forms of organization and complexity at both the smallest and largest scales of manifestation. We see it in the original Big Bang, in which something (the "physiosphere") emerged from nothing. And also in the two other "Big Bangs" that followed: the emergence of life (the "biosphere") from inert matter, and the emergence of consciousness and culture (the "noosphere") from unconscious life.
Steve pointed out that the emergence of each of these was entirely unpredictable from what went before and that what distinguishes life from matter is the emergence of purpose. As Lynn Margulis so elegantly put it, "Life is matter that chooses." All life's agency is testimony to its recognition of the value of surviving and reproducing.
Intentionality becomes more complex as animal consciousness grows.  The definition of animal well-being expands from just brute survival towards the nurturing of offspring.  And human consciousness and culture (Cathedrals, symphonies, the Hubble telescope) cannot be predicted by the established naturalistic mechanisms of biological evolution.
We then explored the question: "In what direction are we evolving?" Steve discussed purpose and directionality in terms of the presence of the infinite in the finite realm, which we experience as the magnetic pull of the ultimate triad of values: Beauty, Truth and Goodness.
Steve also observed that progressive spirituality isn't providing as robust a form of spiritual leadership as our culture needs at this time, but that evolutionary spirituality can do so. Evolution is an objective truth that can transcend the muddle of progressive spirituality and relativism, and thus it can provide the level of spiritual leadership our world needs so deeply.
Our current opportunities for evolution can be found in our most wicked problems—such as global warming.  Steve argued that what most strident environmentalists fail to recognize is that much of the mainstream resistance to appropriate action stems from the inherent dialectic between modernism and postmodernism.  We don't need a miraculous great awakening like some postmodernists believe. We just need to evolve postmodernism so that it's more appealing to the mainstream, by being less opposed to modernism and less advocating of the destruction of modernism.  Steve co-founded The Institute for Cultural Evolution to bring the evolutionary perspective to bear along the margin in relation to our most critical contemporary problems.
He sees evolution's purpose emerging from within us, within our consciousness, through the gravitational pull of values on every level.  Our issues are all problems of consciousness and our spiritual growth occurs by acting as we should, fulfilling our purposes within evolution, to be agents of evolution.  We do this by simply experiencing value — the beautiful, the true, and the good — and creating it. Any political endeavor to make the world a better place has to relate to bringing in the beautiful, the true, and the good.
I asked Steve about how this project relates to our more immediate political season, and mentioned my Integral Obama initiative, which invites transpatisans, integral evolutionaries, systems thinkers, spiritual practitioners and others who want to raise the level of political discourse. The idea is to pool donations in support of the re-election of President Obama, enabling us to make a statement while we stand up and participate in a growing movement toward a pragmatic and more enlightened politics.
Steve supports this initiative and elaborated on why it's important. He pointed out that it's common for postmodernists to get disillusioned now. But this is exactly the critical issue right now, in cultural terms. As expressions of contemporary progressive spiritual culture, it's important that we not stay stuck in the antithesis, rejecting the political process and modernism. This is exactly what has to yield. So we can play a part in cultural evolution specifically by transcending our despair and cynicism and engaging the political process. We have a duty to help culture evolve, in part by electing a modernist President who has a center of gravity more toward postmodern than toward traditional.
Steve wondered why the Republican party has moved so strongly to the right while the Democratic party hasn't changed much. He pointed out that the Tea Party is an example of the increase of polarization on the right. Steve believes this is because postmodernism has gained ground, for example regarding gay rights. This is a huge win, but it comes at a cost, of moving the conservative arm of the body politic into a more reactive and rigid position. So it is imperative that postmodernists stay related to modernists and traditionalists at a time like this.
This blog only excerpts some highlights. But this was a very substantial dialog and there's much more. I invite you to download and listen to the recording here.