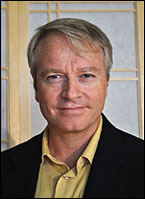 Join us Sunday, August 26th at 10am PST for a dialog with Integral philosopher Steve McIntosh. We will discuss Steve's important new book: Evolution's Purpose: An Integral Interpretation of the Scientific Story of Our Origins. It is a brilliant, rational, closely-reasoned discussion of the implications of the scientific story of evolution. Steve presents evolutionary science and philosophy in a fresh and compelling way, and describes very clearly why a deeper understanding of evolution itself can lead directly to a more evolved world.
Evolution's Purpose demonstrates how evolution's purposeful progression reveals profound truths about the universe that are compatible with many forms of contemporary spirituality. And it does so without relying on spiritual authorities or unscientific theories such as "intelligent design". It identifies "the beautiful", "the true" and "the good" as intrinsic values that draw evolution forward, in part through their influence on consciousness.
In our discussion I hope to explore the universe's ceaseless process of evolution as it manifests, not outside of us or beyond us, but as we experience it directly. After all, the impulse of evolution must also manifest through our interior lives. In his book, Steve argues that we can feel it in action whenever we are motivated to improve our lives and help others. I'm excited to pursue this further, since it's not just conceptual but a profoundly inspiring direct living experience that we can feel operating in our own hearts and minds.
In fact, many of us already know, from our own experience, that evolution is inherently purposive, and naturally attracted to higher values. So I will invite Steve to join me in diving into our own direct experience to uncover aspects of evolution's purpose, candidly and authentically, just by looking within ourselves. At root, our purposes are its purposes, so this is where philosophical rigor can converge entirely with direct experience.
About Steve McIntosh:
STEVE MCINTOSH J.D. is a leader in the integral philosophy movement and author of the new book, Evolution's Purpose, as well as the acclaimed 2007 book, Integral Consciousness. He is also a co-founder of the new think tank: The Institute for Cultural Evolution. In addition to the think tank and his work in philosophy, McIntosh has had a variety of other successful careers, including founding the consumer products company Now & Zen, practicing law with one of America's biggest firms, working as an executive with Celestial Seasonings Tea Company, and Olympic-class bicycle racing. He is a graduate of the University of Virginia Law School and the University of Southern California Business School, and now lives in Boulder, Colorado with his wife and two sons. For more on his work, visit: www.stevemcintosh.com
HOW TO PARTICIPATE:
Sunday, August 26th @ 10:00 AM Pacific*; 11:00am Mountain; 12:00pm Central; 1:00pm Eastern
*Find Your Local Time
Please Note: There will be a limited number of lines available on the live conference call, so we encourage you to listen online if possible. To make sure you can get through by phone, we encourage you to dial in early.
ACCESS INSTRUCTIONS
Join the Dialogue: About one hour into the dialogue, we'll open up the lines and you'll have the opportunity to interact with us directly over the phone or via instant message. Here's what to do:
To interact live by voice, dial into the conference line number and wait until we ask for a question from someone in your region, or
Send us your question via instant message in the teleseminar window on your computer
Send us your questions and comments before or during the live dialogue by posting them on our Beyond Awakening Community Facebook page
We look forward to your attendance!
Sincerely,
The Beyond Awakening Team