Each day we are pushed around by external forces – from the economy to the people we live and work with – and by reactions to these that come from ancient reptile/mammal/primate/caveman circuits inside our own brains. The brain is the bodily organ that most affects who we are and our experience of living – so learning how to take good care of it, and strengthen  and direct it in the ways that will help us the most, is a profound gift to ourselves, and to everyone else whose lives we touch.
Rick Hanson teaches people how, using the power of modern neuroscience, we can take charge of the brain and gradually change it for the better. His work specializes on powerful yet down-to-earth ways (practices) to build up a "buddha brain" for more peace of mind in stressful times, greater inner strength and confidence, and an unshakeable sense of contentment and worth. Such practice is not some flabby, airy-fairy mumbo-jumbo – it takes grit and honest work – you earn the results, and can respect yourself for them.
We will talk about the interface between this intensely personal practice and our life together, culturally, socially and politically, and how balanced brains can participate in engendering healthy adaptive responses to a tumultuous inflection point in our evolutionary trajectory.
About Rick Hanson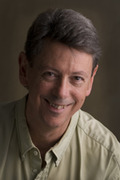 Rick Hanson, Ph.D., is a neuropsychologist and founder of the Wellspring Institute for Neuroscience and Contemplative Wisdom who teaches at universities and meditation centers in Europe, Australia, and North America. His work has been featured on the BBC and in Consumer Reports Health, U.S. News and World Report, and other major magazines. His books include the bestselling Buddha's Brain: The Practical Neuroscience of Happiness, Love, and Wisdom, which has been widely praised by scholars, therapists, and teachers and is now being translated and published in ten languages, and Just One Thing: Developing a Buddha Brain One Simple Practice at a Time.
An authority on self-directed neuroplasticity, he edits the Wise Brain Bulletin, and his articles have appeared in Tricycle Magazine, Insight Journal, and Inquiring Mind, as well as Huffington Post, Psychology Today, and other major websites, His first book was Mother Nurture: A Mother's Guide to Health in Body, Mind, and Intimate Relationships He began meditating in 1974, trained in several traditions, and leads a weekly meditation gathering. He and his wife have two children.
HOW TO PARTICIPATE:
Sunday, November 13th at 10:00 am Pacific
Please Note: There will be a limited number of lines available on the live conference call, so we encourage you to listen online if possible. To make sure you can get through by phone, we encourage you to dial in early.
To listen live by phone, dial: 206-402-0100  (alternate #: 501-707-0312), then, enter Access Code: 272072#
To listen live online go to:  http://InstantTeleseminar.com/?eventID=24093057
To download the audio after the teleseminar is complete, click here to gain instant access.
Join the Dialogue: About one hour into the dialogue, we'll open up the lines and you'll have the opportunity to interact with us directly over the phone or via instant message. Here's what to do:
To interact live by voice, dial into the conference line number and wait until we ask for a question from someone in your region, or
Send us your question via instant message in the teleseminar window on your computer
Send us your questions and comments before or during the live dialogue by posting them on our Beyond Awakening Community Facebook page
We look forward to your attendance!
Sincerely,
The Beyond Awakening Team